Today marks the anniversary of Earth Day, a day started as a result of protests against environmental degradation. At this point, there has been an overwhelming number of articles and blogs about sustainability, but we want to show you how we do our part, too.
At Proctorio, we are committed to being an eco-conscious company. We believe even the smallest things make a difference. In honor of Earth Day, we'd like to share what our team does and plans to implement in the future to create a cleaner and greener planet.
10 ways Proctorio promotes sustainability
Carbon Neutrality
Proctorio has been carbon neutral since 2018. We calculate our footprint and invest in projects around the world that offset our total emissions. We support and contribute to several sustainable practices, including the Matebe Hydroelectric Plant in Virunga, Congo, home to Africa's oldest national park and one of the last mountain gorilla populations in the world. It is estimated to save nearly 50,000 tons of CO2 per year and aims to create 12,000 sustainable jobs for the Rutshuru region. This will provide residents with clean, affordable energy.
Meatless Mondays
Our team enjoys sharing healthy lunches together every day, especially on Meatless Mondays! This practice helps slow climate change and secure our global food supply. This has inspired some of our team members to go fully vegan.
Paperless Office
As an online proctoring service, our office is paperless. We use a collaborative online workspace to share our projects and keep our team organized. Fun fact: We don't even own a printer!
Solar Energy
The Arizona sun influenced Proctorio to add solar panels to our covered parking lot, providing us with a renewable energy source that can assist in reducing greenhouse gas emissions. Fun fact: It's enough to power our entire office!
Adopt-a-Highway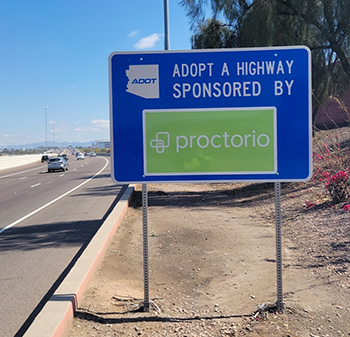 Proctorio adopted six Arizona highways through the Adopt-a-Highway program, supporting the litter cleanup and maintenance of highways.
Energy Efficient Lighting
Our office uses energy-efficient lighting, such as fluorescent or LED lights, which are designed to decrease power consumption. By using less electricity, we can help reduce associated emissions, such as CO2.
Compost + Recycling
We are committed to recycling all plastic, paper, and glass and composting all organic matter.
Sustainable Swag
All of our swag is sustainably sourced or made from recycled materials. We also recycle and repurpose it in new productions.
Future Garden
We plan to grow an indoor herb garden right here at our office. This will help reduce the mileage our food has traveled and avoid plastic packaging.
Earth Day Clean Up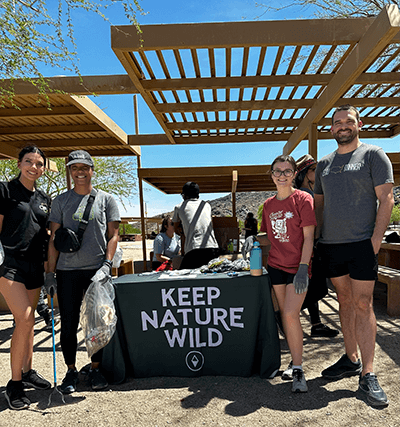 Every Earth Day, our team partners with local organizations, including Clean Up Papago and, this year, Keep Nature Wild at South Mountain, a local trailhead in Phoenix. We're working together to pick up litter and give back to our natural community.
We are committed to sustainability efforts throughout the year. Every day is Earth Day for us.
Wishing you a Happy Earth Day from our family at Proctorio!